Research article
Open Access
Open Peer Review
This article has Open Peer Review reports available.
How communication affects prescription decisions in consultations for acute illness in children: a systematic review and meta-ethnography
BMC Family Practice
2014
15:63
Received: 24 January 2014
Accepted: 28 March 2014
Published: 8 April 2014
Abstract
Background
Communication within primary care consultations for children with acute illness can be problematic for parents and clinicians, with potential misunderstandings contributing to over–prescription of antibiotics. This review aimed to synthesise the evidence in relation to communication and decision making in consultations for children with common acute illness.
Methods
A systematic search of MEDLINE, EMBASE, CINAHL, PsycINFO, SSCI, SIGLE, Dissertation Express and NHS economic evaluation databases was conducted. Studies of primary care settings in high income countries which made direct observations of consultations and reported qualitative data were included. Included studies were appraised using the process recommended by the Cochrane Qualitative Methods Group. Credibility was assessed as high for most studies but transferability was usually assessed low or unclear. Data were synthesised using a meta–ethnographic approach.
Results
Thirty–five papers and 2 theses reporting on 13 studies were included, 7 of these focussed on children with respiratory tract infections (RTI) and the remaining 6 included children with any presenting illness. Parent communication focussed on their concerns and information needs, whereas clinician communication focussed on diagnosis and treatment decisions. During information exchanges, parents often sought to justify the need for the consultation, while clinicians frequently used problem minimising language, resulting in parents and clinicians sometimes talking at cross–purposes. In the context of RTIs, a range of parent communication behaviours were interpreted by clinicians as indicating an expectation for antibiotics; however, most were ambiguous and could also be interpreted as raising concerns or requests for further information. The perceived expectation for antibiotics often changed clinician decision making into clinician–parent negotiation.
Conclusions
Misunderstandings occurred due to parents and clinicians talking at cross purposes about the 'seriousness' of the illness and because parents' expressions of concern or requests for additional information were sometimes perceived as a challenge to the clinicians' diagnosis or treatment decision. This modifiable problem may be an important contribution to the unnecessary and unwanted prescribing of antibiotics. Primary care clinicians should be offered training to understand parent communication primarily as expressions of concern or attempts at understanding and always to check rather than infer parental expectations.
Keywords
CommunicationRespiratory tract infectionChild healthPrimary careParentAntibiotics
Background
Acute illnesses are frequent in children and the commonest reason for use of primary health care services by parents in the UK [1] and internationally. Acute cough with respiratory tract infection (RTI) is the most common of these and is estimated to be the cause of over a million UK consultations per year [2]. Despite this they are often perceived by parents as problematic consultations [3, 4]. Parents have been reported to leave consultations feeling uncertain, with insufficient information about diagnosis and treatment options [4, 5]. Clinicians want to provide the best health care for their patient, whilst also satisfying parents [6]. Since acute illnesses are usually self–limiting, from a health service point of view, many of these consultations may be regarded as unnecessary, and contribute to over–prescription of antibiotics [7]. Primary care clinicians are responsible for 80% of all antibiotic prescriptions [8] and they continue to be widely prescribed despite evidence of limited effectiveness [9], contributing to the increasing rates of bacterial resistance to antibiotics [10]. The content of these interactions is therefore of importance for parents, children, clinicians and health services.
Paediatric consultations are complicated by the triadic nature of the doctor patient interaction: the needs of the patient are usually interpreted for the clinician by a third party (the parent) [11, 12]. Parents commonly speak for their child and the perceived needs and anxieties of the parent can inadvertently be given priority over the child's [13]. Parents' communication behaviours may lead clinicians to overestimate parents' expectation for antibiotics [14, 15]. In addition, clinician communication behaviours, such as negative or positive framing of treatment recommendations can influence whether or not parents accept or resist, which in turn may influence the decision to prescribe antibiotics [16]. Training in communication skills has been used to address the problem of over–prescription of antibiotics, with some success in consultations for adults [17–19] and encouraging results in consultations for children [20].
Other reviews have looked at clinicians' views and experiences of prescribing [21], antibiotic prescribing for the general population [6, 22], triadic communication in paediatric consultations [23] and the effectiveness of interventions to influence antibiotic use for acute RTI in children [24], but none have looked at the interaction within consultation for acute childhood illness and how it affects decision making. This review will examine what happens within the consultation from the perspectives of both clinician and parent. It will look at parent–clinician communication and the processes involved in decision making (particularly in relation to prescribing or not prescribing antibiotics).
This review is part of a NIHR funded Programme Grant for Applied Research, designed to better understand and respond to childhood RTIs presenting in primary care, known as the "TARGET" Programme.
Methods
Standard methods for systematic reviews were used to search, screen, and review included papers [25]. A study protocol was written for this review and is available from the study authors.
Literature search & study selection
The databases MEDLINE, EMBASE, CINAHL, PsycINFO, SSCI, SIGLE, Dissertation Express databases and the NHS economic evaluation database were searched using a form of the following strategy: [terms for acute childhood illness] AND [terms for parent or child] AND [terms for clinicians or primary health care] AND [terms for consultation] AND [terms for qualitative research]. Terms for acute illness were limited to human child when possible. Search strategies were tailored to each database; the Medline search strategy is given in Additional file 1 (SM1) and other strategies are available from the authors. No date limits were set and all database records up to October 2012 were searched.
The following journals were selected for hand searching because it was anticipated that these journals would publish potentially relevant qualitative studies: Social Science and Medicine, the Sociology of Health and Illness, British Journal of General Practice, Journal of Family Practice, and Health Expectations. We used reference lists of relevant studies, citation tracking, and contacts with experts in the field to identify additional studies.
Title and abstracts (where available) were screened against study inclusion criteria and full texts of any potentially relevant studies were retrieved. Full text screening was carried out independently by 2 reviewers (CC and PL/JH) to determine inclusion in the systematic review and any disagreements were resolved by discussion. Studies were included if they 1) concerned the interaction between parent and health professional during a primary care consultation for an acute minor illness in a child; 2) took place in primary health care settings in OECD high–income countries; 3) made direct observations of the consultations; and 4) reported qualitative data. Studies reporting only quantitative data were excluded since this review sought to examine the actual words exchanged in these consultations.
Data extraction
Data extraction was carried out independently by two reviewers (CC and PL/JH) according to the agreed protocol. Two reviewers extracted data from each study into a pre–agreed form which covered the study aim, sampling strategy, methodology, setting, population characteristics, first and second order constructs and conclusions. The two forms completed for each study were then merged and any disagreements were discussed and resolved by consensus.
Critical appraisal
The quality assessment follows the approach recommended by the Cochrane Qualitative Research Methods Group [26]. The inclusion/exclusion criteria were used to identify studies for inclusion. Technical and theoretical aspects of the included studies were appraised independently by 2 members of the research team (CC and PL or JH) using the modified quality measure proposed by Popay et al. [27]. Quality criteria were not used to exclude studies from the review as no papers were considered "fatally flawed" [28, 29].
Data synthesis
We attempted to produce a new understanding of the data drawn from the primary studies using a meta–ethnographic approach as developed by Noblit and Hare [30] and following the iterative process described by Malpass et al. [29]. We began by identifying the second order constructs (themes or phenomena identified by the authors of each included study). This was completed independently by two authors (CC and PL or JH) as part of data extraction and a final list of second order constructs for each study was arrived at through discussion and consensus. These second order constructs were then translated across all the studies [31]. Taking each paper in chronological order, the second order constructs were entered into a table in the original authors' words or a close paraphrase. Where similar constructs were identified in different studies a translation or summary description was written which captured the common meaning and preserved the study authors' conceptual interpretations [29]. The 'line of argument' approach described by Noblit & Hare [30] was used to synthesise the translated constructs, or where these only occurred in one study the extracted second order constructs. This approach allows us to construct an argument about what these studies say together, although different studies or groups of studies were focussed on different phenomena [32].
Results
The search identified 7,935 unique records, of which 7,887 were excluded on screening of title and abstract. The remaining 48 records reported on 35 studies, for which full texts were obtained and screened. This identified 13 studies which met the inclusion criteria (see Figure
1
). These 13 studies were reported across 35 publications and 2 theses (where studies were reported across multiple publications, we use the earliest publication as the primary reference for clarity, but in results we refer to the publication from which data were drawn where appropriate). All publications associated with each study are listed in Table
1
.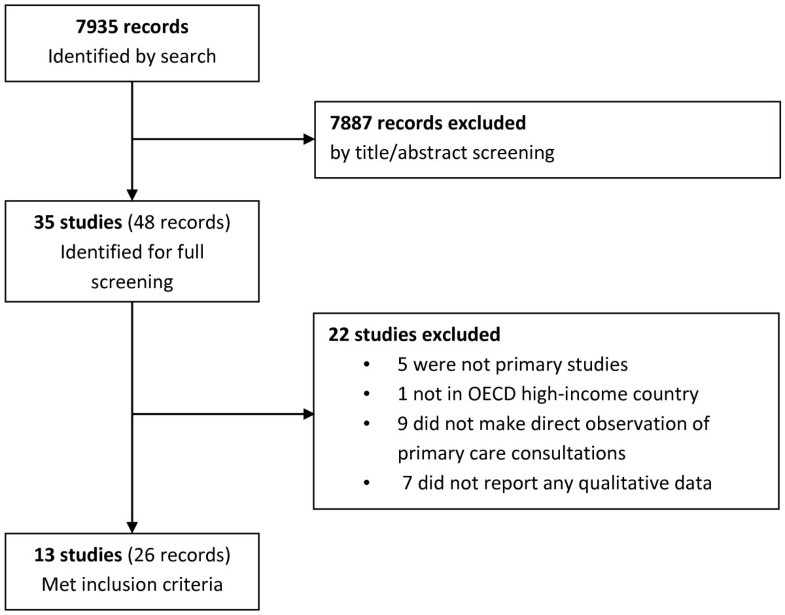 Table 1
Study characteristics
Consultation sample

Primary Reference

Associated publications

Focus

Data collection methods

Analysis methods

No.

Paediatric or mixed

Illness

Location

Consultation participants

Study quality

Elwyn 1999 [33]

[34]

Shared decision making in situations of conflict

Two case studies. Audio recorded consultations.

Discourse analysis

2

Paediatric

URTI

UK

2 Children (2–8 yrs) 3 Parents 1 GP from 1 clinic

High credibility. Insufficient information to assess typicality. Transferability limited to similar cases.

Stivers 2000 [35]

Communication practices used by parents and paediatricians

Convenience sample. 295 audio recorded & 65 video recorded consultations. 1996–1997.

Conversation analysis

360

Paediatric

RTI

USA

Children (2–10 yrs) Parents (Demographic data for 295: avg. age: 38 yrs; avg. edu: 16 yrs; 75% affluent households; 69% White; all English speakers) 14 Clinicians from 6 clinics

High credibility. Likely to be typical. Limited transferability to similar populations.

Rollnick 2001 [41]

Language, skills and strategies used in everyday URTI consultations

Audio recorded consultations.

Verbal 'moves' used by doctors identified.

29

Paediatric

URTI

UK

Children (<11 yrs) Parents 5 GPs from 1 clinic

Insufficient information to assess credibility, transferability and dependability.

Main 2001 [42]

Effects of family context on care and physician-patient communication

Purposive selection of clinics. Direct observation of consultations. 1996 & 1999

Emerging patterns of physician-patient interaction were identified.

37

Mixed

Acute RTI

USA

Children (<16 yrs) Parents >50 Clinicians from >18 clinics

High credibility. Insufficient information to assess transferability of these findings.

Barry 2001 [45]

Patient expectations, consultation behaviour and prescription

Purposive sample of clinicians. Audio recorded consultations & interviews with parents and clinicians. 1996–1998.

Conversation analysis

35

Mix

Mix

UK

6 Children (<12 yrs) Parents 20 GPs from 20 clinics

High credibility. Insufficient information to assess typicality and transferability.

Tates 2002 [48]

Co-construction of roles and interaction

Video recorded. 3 time periods: 1975–78; 1988–89; 1993

Conversation analysis

106

Paediatric

Mix

Netherlands

106 Children (<12 yrs) 106 Parents (88 mothers) 58 Clinicians

High credibility. Insufficient information to assess transferability.

Butler 2004 [51]

GPs' current practice regarding prognosis

Convenience sample. Audio recorded consultations.

Prognosis communication extracted.

59

Paediatric

RTI

UK

Children (<11 yrs) Parents 9 GPs from 2 clinics

Insufficient information to assess credibility, typicality or transferability.

Roberts 2005 [52]

Method of theme oriented discourse analysis

Two case studies. Audio or video recorded consultations.

Discourse analysis

2

Mix

Mix

Not stated

1 Child 1 Parent 1 Clinician

High credibility. Insufficient information to assess transferability or typicality.

Nova 2005 [53]

Quality of the paediatric interaction.

Videos recorded consultations. 2003.

Discourse analysis

10

Paediatric

Mix

Italy

10 Children (2–6 yrs) >6 Parents Clinicians (no information given)

High credibility. Insufficient information to assess transferability or typicality.

Stivers 2005 [16]

Parent resistance to no antibiotic treatment

Cross-sectional sample. Video recorded consultations. 2000 & 2001.

Conversation analysis

309

Paediatric

URTI

USA

Children (6 m to 10 yrs) 543 Parents (avg. age: 34 yrs; 53% latino; 28% white; 12% African-American; 7% Asian; 16% high school not completed; 60% high school completed; 24% graduates) 38 Paediatricians from 27 clinics

High credibility. Insufficient information to assess transferability or typicality.

Cahill 2007 [11]

Child participation in consultations

Purposive sample of practices. Video recorded consultations. 2004 & 2005

Conversation analysis

31

Paediatric

Not stated

UK

31 Children (6–12 yrs) Parents 16 GPs

High credibility. Limited transferability to similar populations is likely.

Butler 2009 [60]

How nurses deliver advice on telehealth line

Purposive selection of calls. Audio recorded. 2005 –2006.

Conversation analysis

6

Paediatric

Mix

Australia

6 Children 6 Parents 12 Nurses

High credibility. Likely to be transferable to other similar interactions.

Ijas-Kallio 2011 [61]

Patients participation in diagnosis and treatment decision

Audio or video recorded consultations. 2005–2006.

Conversation analysis

46

Mix

RTI

Finland

46 Children Parents 11 Clinicians from 9 clinics

High credibility. Insufficient information to assess transferability or typicality.
Discussion
This is the first review to synthesise the qualitative evidence on the interaction in primary care consultations for children with acute minor illness. It provides insights into the usual forms of communication between parents, children and clinicians in primary care consultations and in particular how this influences the antibiotic decision making process in consultations for acute RTI. The focus in the literature on consultations for RTI, stimulated by concerns about over prescription of antibiotics, meant there was insufficient evidence to comment on the decision making in relation to other acute illnesses.
A key finding of this review is that parent concern or information seeking may be misinterpreted by clinicians as pressure for antibiotics. Pressure or expectation for antibiotics has been cited by clinicians and researchers as playing a major role in over-prescription of antibiotics [6, 43, 68, 69]. However, clinician perception of parental expectation of antibiotics is not associated with actual parent expectations [36]. This review found that explicit parental pressure was rare but many parental communication behaviours were interpreted by clinicians as pressure for antibiotics. These behaviours were, at least, ambiguous in this respect. The interpretation by clinicians of a wide range of parental communication behaviours as expectation or pressure for antibiotics, and clinicians' pre-emptive moves to justify no antibiotic prescription, indicated that many clinicians anticipated pressure for antibiotics. This may explain why clinicians read an expectation of antibiotics into parental communication that is only intended to communicate concerns or to elicit further information. Since clinician perception of an expectation of antibiotics is a strong predictor of whether antibiotics are prescribed [36] it is essential to understand the process by which these perceptions are created. This review provides evidence that parents' concerns about their child and clinicians' anticipation of antibiotic expectation can combine to contribute to over-prescription of antibiotics.
A common misunderstanding observed in these consultations occurred when parents and clinicians spoke about the 'seriousness' of the illness. They often spoke at cross purposes, the parent seeking to justify the consultation (my child is seriously ill) and the clinician to justify a no antibiotic treatment decision (this illness will resolve without intervention). Problem minimising commentaries ("online commentaries") during physical exams are frequently used by clinicians in consultations for acute illness, mainly to reassure patients [37]. In addition, online commentaries which identify problems or abnormalities rather than minimise or normalise symptoms are associated with higher rates of antibiotic prescribing [56]. Clinicians contribute to the miscommunication by predominantly using problem minimising communication in association with viral diagnoses so that when parents perceive any signs or symptoms that appear non-minor, they may then have a greater expectation of antibiotics [54]. Problem minimising communication by the clinician may have a different influence on the consultation trajectory depending on whether it is perceived as reassurance that a child's illness is minor or as questioning the legitimacy of the consultation or as indicating a disregard of the parent's concerns. In the latter cases, it may prompt parent resistance which in turn can influence antibiotic prescribing.
The child's contribution to communication, when present, was meaningful and indicated that the child was also seeking to understand their illness and the consultation process.
In common with the findings of previous reviews [23, 70], this review found that data on children's voices in consultations were rare. This may be partly explained by the age profile of children most frequently consulting for cough which peaks at under 18 months [1] when most children have limited communication capacity. However, this review did include consultations with children up to 12 years old and the data indicate that when these children do speak, the extent of their contribution is controlled by the adults [11, 48, 53]. An important question for future research concerns the children's views of the communication in these consultations. In particular whether children are learning that they do not have a say and what that means for their understanding of self-care in relation to cough.
Limitations
Few of these studies captured the views and intentions of parents or clinicians. This meant that we can comment on the talk itself, but not the intent and thus ambiguities in communication remain. Studies which capture both the interaction in the consultation and the views of all parties are needed.
None of these studies gave detailed socio-demographic information about the entire population (clinician, parent and child), many reporting on only clinician or parent populations and sometimes neither. It was therefore not possible to know whether particular phenomena are associated with certain socio-demographic groups. Further we cannot comment on the extent to which the patterns of illness or prescribing in the observed consultations were typical or atypical, but instead comment on features of the observed exchanges.
Conclusions
Key areas for improving communication in consultations for children with RTIs are identified by this review. Communication skills training has been shown to reduce antibiotic prescribing significantly for RTI in adults [17–19] and a booklet used to aid communication was shown to reduce antibiotic prescribing for RTIs in children [71]. This review provides strong evidence that most parental communication should be heard as expressions of concern, contributions of information or attempts at understanding and not as requests for antibiotics. These consultations for common acute illness may appear straightforward biomedical problems to clinicians, but by taking a more bio-psycho-social approach clinicians may avoid some of the miscommunication. In interventions with adult patients which successfully reduced prescribing, a key element of the communication skills training focuses on improving clinician elicitation of concerns [17–19]. This review suggests that this approach could be usefully transferred to consultations for children, with additional training of clinicians and to interpret parent communication as expressions of concern or attempts at understanding. In addition, problem minimising or normalising language should be used with caution to avoid unhelpful miscommunication about the 'seriousness' of the child's illness. Clinicians and parents need to communicate more explicitly about expectations for antibiotics in order to avoid unnecessary and unsought prescriptions and to address any misapprehensions about when antibiotics are needed. The key communication skill is the clinician's ability to elicit the real expectations of parents when they consult with a sick child.
Consent
Written informed consent was obtained from the patient's guardian/parent/next of kin by the authors of the included studies for the publication in those reports.
Declarations
Acknowledgements
We would like to thank Jo Abbot for technical support and other members of the TARGET programme team. The TARGET team consists of: Alastair D Hay, Andrew Lovering, Brendan Delaney, Christie Cabral, Hannah Christensen, Hannah Thornton, Jenny Ingram, Jeremy Horwood, John Leeming, Margaret Fletcher, Matthew Thompson, Niamh Redmond, Patricia Lucas, Paul Little, Peter Blair, Peter Brindle, Peter Muir, Sandra Hollinghurst, Sue Mulvenna, Talley Andrews, and Tim Peters. We would also like to thank our reviewers Linda Milnes and Sarah Tonkin-Crine for their very useful suggestions for improvements to this paper.
The TARGET Programme is funded by the National Institute for Health Research's Programme Grant for Applied Research Programme. This paper summarises independent research funded by the National Institute for Health Research (NIHR) under its Programme Grants for Applied Research Programme (Grant Reference Number RP-PG-0608-10018). The views expressed are those of the authors and not necessarily those of the NHS, the NIHR or the Department of Health.
Authors' Affiliations
(1)
Centre for Academic Primary Care, School of Social and Community Medicine, University of Bristol, Bristol, UK
(2)
School of Policy Studies, University of Bristol, Bristol, UK
Copyright
© Cabral et al.; licensee BioMed Central Ltd. 2014
This article is published under license to BioMed Central Ltd. This is an Open Access article distributed under the terms of the Creative Commons Attribution License (http://creativecommons.org/licenses/by/2.0), which permits unrestricted use, distribution, and reproduction in any medium, provided the original work is properly credited. The Creative Commons Public Domain Dedication waiver (http://creativecommons.org/publicdomain/zero/1.0/) applies to the data made available in this article, unless otherwise stated.