Study protocol

Open Access

Open Peer Review
This article has Open Peer Review reports available.
Frequent attenders in general practice: problem solving treatment provided by nurses [ISRCTN51021015]
BMC Family Practice
2005
6:42
Received: 11 August 2005
Accepted: 12 October 2005
Published: 12 October 2005
Abstract
Background
There is a need for assistance from primary care mental health workers in general practice in the Netherlands. General practitioners (GPs) experience an overload of frequent attenders suffering from psychological problems. Problem Solving Treatment (PST) is a brief psychological treatment tailored for use in a primary care setting. PST is provided by nurses, and earlier research has shown that it is a treatment at least as effective as usual care. However, research outcomes are not totally satisfying. This protocol describes a randomized clinical trial on the effectiveness of PST provided by nurses for patients in general practice. The results of this study, which currently being carried out, will be presented as soon as they are available.
Methods/design
This study protocol describes the design of a randomized controlled trial to investigate the effectiveness and cost-effectiveness of PST and usual care compared to usual care only.
Patients, 18 years and older, who present psychological problems and are frequent attenders in general practice are recruited by the research assistant. The participants receive questionnaires at baseline, after the intervention, and again after 3 months and 9 months. Primary outcome is the reduction of symptoms, and other outcomes measured are improvement in problem solving skills, psychological and physical well being, daily functioning, social support, coping styles, problem evaluation and health care utilization.
Discussion
Our results may either confirm that PST in primary care is an effective way of dealing with emotional disorders and a promising addition to the primary care in the UK and USA, or may question this assumption. This trial will allow an evaluation of the effects of PST in practical circumstances and in a rather heterogeneous group of primary care patients. This study delivers scientific support for this use and therefore indications for optimal treatment and referral.
Keywords
Cognitive Behavioral Therapy
Usual Care
Psychological Problem
Primary Care Patient
Usual Care Group
Background
In primary care the prevalence of psychological problems (e.g. depression, anxiety, stress, somatization, unexplained or functional symptoms) ranges from 30% to 70%. Patients with these complaints, symptoms or disorders frequently visit their general practitioner [1] and only 3% of all patients are referred to a specialist. This implies that mental health care is a core activity in primary care [2]. For many of these complaints and symptoms no evidence-based treatment is available [3]. There is a clear need for an effective treatment for common mental disorders in primary care.
Problem Solving Treatment(PST) in primary care
In 1971 D'Zurilla and Goldfried published a theory in which problem-solving was defined as a cyclic process in five stages: problem orientation; problem definition; generation of alternative solutions; decision making, and solution implementation and was called problem solving therapy [
4
]. Since then, problem solving therapy has been applied for a wide range of psychological problems in all kinds of areas. In 1995 Gath and Mynors-Wallis conducted an experiment based on a basic form of PST in primary care. This is strictly protocollized and based on the principles of cognitive behavioral therapy (CBT) [
5
]. The treatment is brief and focuses on practical skill-building. It consists of a maximum of six sessions, each of which contains seven steps of problem-solving (see Figure
1
) which are applied in a systematic manner towards problem resolution. The rationale is that it increases the patient's understanding of the relationship between everyday problems and psychological symptoms. The goal of PST is to help patients to regain control of their lives.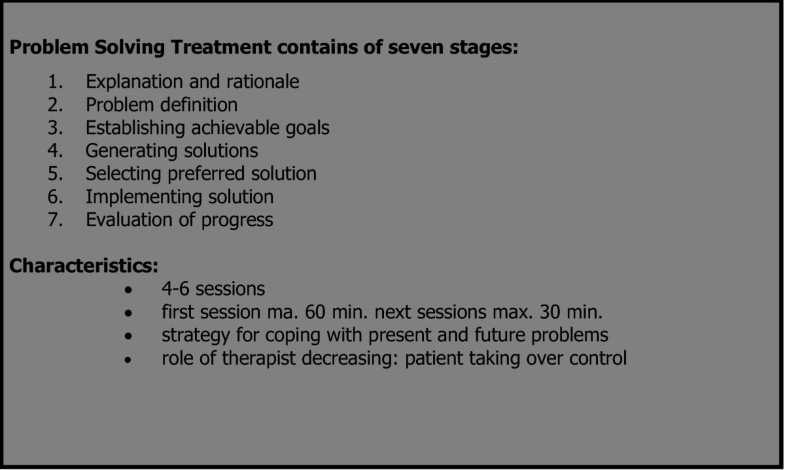 There is evidence that PST can be an effective way of helping patients, and in particular patients with depression, to deal with psychological problems. One earlier study showed the superiority of PST over placebo but no superiority over amitryptiline [6]. A second study showed equal results in clinical outcomes between patients who received PST and patients who received usual care from their GP [6]. When community nurses provided PST the results were the same as for usual care from the GP, but the economic evaluation was more positive for the PST group [7]. Patients with minor depression who received PST showed the same improvement as patients who received a placebo, but their symptoms improved somewhat more rapidly than those of patients who received a placebo during the latter treatment. Patients with dysthymia who received PST and paroxetine showed significantly more improvement than patients who received a placebo [8]. Compared to other GP interventions there is good evidence PST is effective for major depression [1].
PST provided by nurses as a potential option
Patients with psychological problems need more time than is available in general practice. The usual 10-minute consultation with a GP is generally too short to explain and explore these psychological problems. To complicate matters more, these problems are often interwoven with physical issues such as fatigue and sleeplessness. Furthermore, patients are ambiguous in presenting their symptoms [9]. Given this fact, in combination with the high prevalence of psychological problems in primary care, treating these patients will result in a shift of tasks to nurses. Especially nurses who are skilled in working with psychiatric patients, may become indispensable in primary care [10]. Nurses can be successfully trained in the techniques of PST and can provide effective PST for primary care patients [11]. Recent results show that a CBT protocol for panic-disorder can adhered by a therapist with minimal of or no CBT experience [12].
There are several issues which stimulate further investigation. First, PST may be the way forward in the Netherlands, where GPs have a heavy workload and patients need better tailored collaborative forms of care, focused on self-help and education.
There are still very few nurses working in Dutch general practice and although preliminary experiments are taking place to enhance and define the role of nurses in primary care, PST could be a welcome innovation in their task profile. So, innovative projects in primary care in the Netherlands are needed.
Secondly, there is a lack of research outcomes on the effectiveness of talking treatment for anxiety symptoms in patients. In this trial, patients with depressive as well as anxiety symptoms will be included. Only one study has reported substantially better outcomes for primary care patients with panic disorder, who received CBT and pharmacotherapy from a therapist with minimal or no CBT experience, like a nurse, than patients with usual care only from their GP [12].
Third, PST in primary care could prevent or stimulate a referral to secondary care for patients with complaints which cannot be treated in primary care. This would also stimulate better tailored collaborative forms of care and prevent the deterioration of complaints.
The primary aim of the present trial is therefore to investigate whether PST for patients with psychological problems provided by nurses in primary care, is effective.
Discussion
Our results may either confirm that PST in primary care is an effective way of dealing with emotional disorders and a promising addition to the primary care in the UK and USA, or may question this assumption. This trial will allow an evaluation of the effects of PST in practical circumstances and in a rather heterogeneous group of primary care patients.
Strengths and limitations
Many methodological requirements for a high quality trial are met [36]. Allocation is concealed through block-randomization by an external researcher. Recruitment of responders will be in the GP's waiting room, without the GP knowing where and how randomization will take place. The methodology used in this trial will overcome concerns of selection bias. The relevance to the Dutch primary care seems sufficient and the generalisability of our sample to patients in everyday practice seems high. The sample size is large, when compared to other trials on psychological problems in general practice [37]. Additionally, whether the outcome is negative or positive, the project will give a clearer understanding of who might or might not benefit from this treatment.
Another strength of this study is the chosen primary outcome, the self-report HADS. The HADS is a well-known questionnaire to measure reduction of symptoms of anxiety and depression. Many previous trials in psychiatry have relied on assessments of the therapist. Another strength is the combination of quantitative assessments and a qualitative process evaluation. If the psychiatric symptoms decline more in the intervention group than in the usual care group, we can therefore safely attribute this to PST treatment. If not, we will explore mechanisms This will provide useful information about implementing the intervention. A practical strength of the study is that the intervention can take place without disturbing care as usual, both in the study as in future implementation.
Some limitations of the present study need to be addressed. It is possible that patients are less motivated to attend PST treatment since screening of all participants takes place in the waiting room of the GP's. This may be lead to a higher dropout percentage in the PST-condition in comparison with the dropout percentage of the CAU.
This study may be criticized because of the lack of a control group without treatment. However, patients are always free to visit their general practitioners. Furthermore, naturalistic studies of the longitudinal course of anxiety and depression indicate that patients who have these symptoms longer than three months are suffering from chronic symptoms [38, 39].
Other potential criticism concerns the suitability of PST for primary care. Although PST seems suitable for primary care, provision of PST by trained nurses will not always be available in daily practice of small primary care practices.
Conclusion
PST is a short psychological treatment for use in general practice. This study delivers scientific support for this use and therefore indications for optimal treatment and referral. Study completion is anticipated for January 2006, with results available in May 2006.
Declarations
Acknowledgements
The Health Research and Development Council (ZONMW) in the Netherlands funded this project.
Authors' Affiliations
(1)
Department of General Practice, VU University Medical Center, Amsterdam, The Netherlands
(2)
Department of Psychiatry, VU University Medical Center, Amsterdam, The Netherlands
(3)
Institute for Research in Extramural Medicine, VU University Medical Center, Amsterdam, The Netherlands
Copyright
© Schreuders et al; licensee BioMed Central Ltd. 2005
This article is published under license to BioMed Central Ltd. This is an Open Access article distributed under the terms of the Creative Commons Attribution License (http://creativecommons.org/licenses/by/2.0), which permits unrestricted use, distribution, and reproduction in any medium, provided the original work is properly cited.