Correspondence
Open Access
Open Peer Review
This article has Open Peer Review reports available.
Diagnosing dementia: No easy job
BMC Family Practice
2011
12:60
Received: 12 August 2010
Accepted: 27 June 2011
Published: 27 June 2011
Abstract
Background
From both clinical experience and research we learned that in complex progressive disorders such as dementia, diagnosis includes multiple steps, each with their own clinical and research characteristics.
Discussion
Diagnosing starts with a trigger phase in which the GP gradually realizes that dementia may be emerging. This is followed by a disease-oriented diagnosis and subsequently a care -oriented diagnosis. In parallel the GP should consider the consequences of this process for the caregiver and the interaction between both. As soon as a comprehensive diagnosis and care plan are available, monitoring follows.
Summary
We propose to split the diagnostic process into four diagnostic steps, followed by a monitoring phase. We recommend to include these steps when designing studies on screening, diagnosis and monitoring of patients with dementia and their families.
Keywords
DementiaDiagnostic ProcessMonitoring PhaseIllness ScriptObjective Burden
Background
Diagnosis is usually thought of as a linear process of performing one or more tests in patients with specific signs or symptoms. If the results show that the patient has the disorder, the diagnostic stage has ended, and treatment can begin. This does not work in primary care, where pattern recognition and the use of 'illness scripts' (more or less complex representations of diseases) are used in non-linear pathways to find the most probable explanations for presenting symptoms [1]. It does not work in specialist care for complex conditions either. If a patient may be developing dementia, the diagnostic process does not start with testing (because of the frequent absence of a clear indication of formal testing) and does not end with applying the treatment logically required by the test results (as also care planning and care for the carers will be required and should regularly be adapted).
In this overview, we combined decades of clinical experience as a GP or a nurse, with the results of a large number of qualitative and quantitative studies. We reached consensus about a number of steps which together build a comprehensive diagnostic work-up in case of cognitive deterioration and dementia. Each of these steps is supported by evidence from primary care-based studies.
Conclusions
Diagnosing dementia is far more complicated than just performing a few tests and deciding whether a patient has dementia or not. We therefore proposed splitting the diagnostic process into four diagnostic steps, followed by a monitoring phase: the trigger phase, a disease-oriented diagnosis, a care-oriented diagnosis and carer assessment (figure
1
). The GP, together with other professional and non-professional carers, has many questions to answer and assessments to perform before finally implementing a strategy that provides optimal and comprehensive help in order to retain capacities and maximise quality of life of all people included. It may be important to take all these steps into consideration when designing studies to identify strengths and weaknesses of interventions intended to improve screening, diagnosis and monitoring of patients with dementia and their families.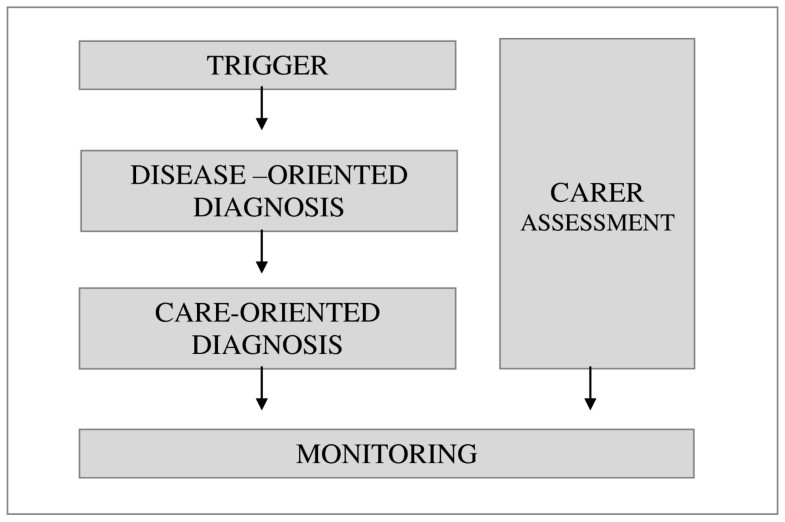 Declarations
Acknowledgements
We gratefully acknowledge the administrative help of Marina Devis of the ACHG - KU Leuven.
Authors' Affiliations
(1)
Department of General Practice, Katholieke Universiteit Leuven, Leuven, Belgium
(2)
Department of General Practice, Maastricht University, The Netherlands
(3)
Wit-gele Kruis van Belgie, Brussels, Belgium
(4)
Department of Primary Care & Population Health, Royal Free Campus, University College London, London, UK
Copyright
© Buntinx et al; licensee BioMed Central Ltd. 2011
This article is published under license to BioMed Central Ltd. This is an Open Access article distributed under the terms of the Creative Commons Attribution License (http://creativecommons.org/licenses/by/2.0), which permits unrestricted use, distribution, and reproduction in any medium, provided the original work is properly cited.