Debate

Open Access

Open Peer Review
This article has Open Peer Review reports available.
Small-scale implementation with pragmatic process evaluation: a model developed in primary health care
BMC Family Practice
2018
19:93
Received: 27 November 2017
Accepted: 25 May 2018
Published: 21 June 2018
Abstract
Background
Research often fails to impose substantial shifts in clinical practice. Evidence-based health care requires implementation of documented interventions, with implementation research as a science-informed strategy to identify core experiences from the process and share preconditions for achievement. Evidence developed in hospital contexts is often neither relevant nor feasible for primary care. Different evidence types may constitute a point of departure, stretching and testing the transferability of the intervention by piloting it in primary care. Comprehensive descriptions of aims, context and procedures can be a more useful outcome than traditional effect studies.
Main text
We present a model for small-scale implementation of relevant research evidence, monitored by pragmatic evaluation. The model, which is applicable in primary care, is supported by Weiner's theory about organizational readiness for change and consists of four steps: 1) recognize the problem – identify a workable intervention, 2) assess the context – prepare for inception, 3) pilot the intervention on site, and 4) upscale and accomplish the intervention. The process is evaluated by exploring selected relevant aspects of experiences and outcomes from the first to the last step. Process evaluation is a logical precondition for outcome evaluation – attempting to assess either the efficacy or the effectiveness of a "black box" intervention makes no sense. We argue why evidence beyond effect studies and evaluation beyond randomized controlled trials may be adequate for science-informed evaluation of a small-scale implementation project such as is often conducted by primary health care practitioners. The model is illustrated by an ongoing project, in which a strategy for upgrading the management of depression in nursing homes in Norway is currently being implemented.
Conclusions
A flexible and manageable approach is suggested, in which the inevitable unpredictability of clinical practice is incorporated. Finding the appropriate middle ground between rigour and flexibility, some compromises must be made. Our model recognizes the skills of practical knowing as something other than traditional medical research, while maintaining academic values such as systematic and transparent reflection, using adequate tools. Considering the purpose and context of our model, we argue that these priorities, emphasizing relevance and feasibility, are strengths, not limitations.
Keywords
Implementation model
Process evaluation
Evidence
Primary health care
Depression
Nursing home
Background
Medical research is conducted to make an impact on health and disease, and health care services are increasingly adopting evidence-based health care (EBHC) [1]. Still, a substantial proportion of research evidence finds its way into scientific journals and languishes there without ever leading to substantial shifts in clinical practice [2]. Pathirana et al. describe how different drivers cause over-diagnosis, such as the promotion of increasingly sensitive tests, leading to the detection of minor "abnormalities", which may be of uncertain clinical significance [3]. While there is evidence for substantial over-diagnosis of thyroid cancer (for women in the Nordic countries it is estimated at 50%; [4]), diagnostic procedures remain unchanged.
Implementation is a process in which we transform what we know to what we do, monitored by implementation research to evaluate conditions influencing these processes [5, 6]. Implementation research offers tools with which to explore and reflect upon what is likely to work in this situation for these people in this organization with these constraints [1]. Thus, the description and analysis of experiences from an intervention process in a specific context may offer inspiration and wisdom for transformation to analogous real-life environments.
The primary care context presents specific challenges to EBHC. A large proportion of knowledge and skills from this medical domain is not yet or will never be substantiated by research evidence, simply because it is fluid, flexible and individualized [2, 7, 8]. Moreover, evidence developed in a top-down hospital context may be neither relevant nor feasible for primary care, owing to the different prevalence, distribution and nature of the health problems that occur at these different levels. Critical conditions related to structural framework, legal regulations, resources, professional procedures and social interaction also often differ between primary care and hospital care [9].
Clinical guidelines for diagnosis, treatment and prevention are the most common format for the implementation of EBHC. Although general practitioners (GPs) seem to approve guidelines in general, several barriers obstruct their application in the real world [10–12]. Flottorp et al., for example, tried to implement guidelines for the management of two common disorders in general practice, but even tailored interventions targeting identified barriers failed to change practice [13].
It is neither advisable nor realistic to regulate any clinical procedure with guidelines. Still, numerous demands for quality improvement remain unmet and significant emerging, potentially relevant evidence is never translated into practice [5]. Greenhalgh draws attention to the huge gap between evidence and its implementation, pointing out that these issues are complex and not easily explained [1].
How, then, can this state of affairs be rectified [2]? In this article, we aim to promote reflection and motivation for change by presenting a model for the small-scale implementation of relevant research evidence applicable in primary care, monitored by implementation research conducted as pragmatic evaluation.
Main text
Theoretical framework and basic concepts
Plenty of relevant theories are available that attempt to explain how and why people and organizations may take up innovations and change their behaviour [1]. We have chosen Weiner's theory about Organizational Readiness for Change (ORC) [14] to support our model, because it is simple while still including a few crucial concepts emphasizing the organizational framework to which participating individuals belong. Translation of knowledge into practice entails ORC, determined by two dimensions: 1) whether organizational members value the intended change and think that it is worthwhile and important (change commitment), and 2) how organizational members appraise the demands of the particular task, resource availability, requirements for the task and situational factors (change efficacy). The appraisal of selected and relevant ORC aspects is indispensable to planning and implementation. These aspects are also important targets for the evaluation of an implementation process.
We argue that implementation of EBHC should always be accompanied by implementation research, to identify core experiences from the process and share preconditions for achievement with colleagues. For analytical purposes, the two different but mutually interacting levels of doing and the study of what is being done must be recognized. Greenhalgh stresses that implementing EBHC involves complex practices that require skills and situational judgment and are not just a matter of following procedural steps [1]. Furthermore, she argues that "implementation science" is neither science nor art, but a science-informed practice. Greenhalgh points out that traditional health care research is oriented towards producing statistical generalizations based on a sample from one population to predict what will happen in a comparable population, leading to one single interpretation of the findings. In contrast, she says, implementation science is at least partly about using unique case examples as a window opening onto wider truths, through the enrichment of understanding, with multiple possible interpretations of a case. Both doing and the study of what is being done therefore require conscientious modification to be feasible and relevant in the actual context [6].
Implementation of research evidence into practice is a complex process, calling for methodological skills as well as practical wisdom. Using the EBHC concept, we draw on a base of existing research knowledge to support the intervention we intend to implement. Evidence informing the intervention is acquired from qualitative, quantitative or mixed-method studies, depending on the nature of the problem to be solved, the type of intervention to be implemented, the implementation context and available time and resources. Evidence supports the aim, nature and content of the intervention, often also its efficacy (outcome under ideal conditions). Complex interventions need to be tailored to local circumstances, rather than being firmly standardized [1, 15]. Feasibility is supported by simplicity and pragmatic priorities, as well as close interaction with the people and the context involved [16]. Bottom-up strategies and implementation anchored in contextual skills and experience are crucial to increase the likely success of the implementation.
Implementation research offers tools and concepts for the evaluation of preconditions for the successful implementation of strategies, programmes, interventions or individual practices. Monitoring, assessing and sharing the experiences of facilitators and barriers to the implementation of a certain intervention in a particular context are helpful for colleagues who want to do something similar [16]. Implementation research is a composite realm with a variety of roots [1], for example quality improvement [17], evidence-based medicine (EBM) [18], organizational psychology [19] and evaluation research [20].
Pragmatic process evaluation – focus and priorities
Pragmatic evaluation is a specific and flexible strategy among several available options, and the concept is not synonymous with implementation research. It is impossible to evaluate every tiny piece of the entire process. A starting point for a relevant and feasible evaluation strategy is to realize that knowledge is always partial, intermediate and dependent on the situated view of the researcher [21]. Choices and priorities must therefore be made about what knowledge will be most helpful for others, given the available resources. Relevance to the purpose and context is the overarching yardstick determining which features to select for review in the evaluation plan [20].
At an early stage, you will have to decide upon a primary scope and recipient of your implementation research. Do you want to share your experiences with colleagues who plan to take up similar interventions, are you talking to public health authorities to convince them of the need for and shape of a national plan, or are you speaking to the assessment committee of your Ph.D., who are obliged to maintain academic methodological standards? The format and focus of the report will be different depending on whom it addresses, but all recipients deserve proper, high-quality contributions. An implementation research project can be published as an article in a scientific journal if you follow accepted principles for qualitative or quantitative research and present original, relevant and credible knowledge. Mixed-methods designs may also be useful [22]. The report of a small-scale primary care implementation project may sometimes be more useful for potential recipients if it is not forced into the restricted format of a peer-reviewed article or subjected to traditional expectations of generalizability.
Process evaluation (often called formative evaluation) aims to improve a policy or programme as it is being implemented, while outcome evaluation (often called summative evaluation) is conducted to determine if a policy or programme works [23]. Process evaluation asks what happens along the road and explores the nature and impact of determinants for ORC, including facilitators as well as barriers [14, 17, 19]. This involves studying how the implementation was performed and received, including adaptations needed to put the intervention into action, reception among stakeholders and participants, preconditions crucial for change commitment and change efficacy and the nature and strength of resistance. Process evaluation can be conducted as pragmatic evaluation, or with more rigorous methodologies.
With regard to feasibility, evaluation should also check whether and to what degree the implementation was accomplished, such as recruitment, participation, adoption, intervention fidelity and sustainability over time. The evaluation of implementation quality may be supported by concepts such as implementation coverage (what proportion of the target group accomplished the intervention, and why?) and implementation fidelity (was the intervention, adapted by piloting, implemented according to the manuals, and how?). Confusingly, such issues are often called implementation outcomes [24]. It may be helpful to think of them as related to the implementation process itself, which is supposedly supported by already existing evidence. Client outcomes are also relevant endpoints for evaluation. The primary focus of a pragmatic process evaluation is still the implementation process itself, not necessarily including the endpoint service outcomes of the intervention [24].
In this sense, implementation research is very different from an intervention research study with standardized circumstances [1]. Pragmatic evaluation may nevertheless be science-informed practice, when relevant tools and standards from research with systematic and transparent reflexivity are employed. In designing the evaluation plan, we take on the role of interaction-oriented pragmatics rather than significance-oriented epidemiologists [6].
Below we present our model for small-scale implementation with pragmatic process evaluation, incorporating, summarizing and exemplifying these preconditions. A strategy for upgrading the management of depression in nursing homes in south-western Norway currently being implemented by the last author (KRI) illustrates our presentation. Applying this case before implementation and evaluation have been completed allows us to imagine and suggest more options than the finalized project will ever be able to exemplify. Hence, this is first and foremost a methodological article, not a report on an empirical study.
The model
The model was designed for application in primary health care and includes implementation as well as implementation research. It consists of the following steps: 1) recognize the problem and identify a workable intervention, 2) assess the context and prepare for inception, 3) pilot the intervention on site, 4) upscale and accomplish the intervention (Fig.
1
). The process is monitored by studying selected relevant aspects of experiences and outcomes from the first to the last step. In the real world, these elements are closely interwoven. To enhance understanding we present them sequentially. The model is supported by theoretical perspectives about organizational readiness for change (ORC), presented in more detail above [
14
].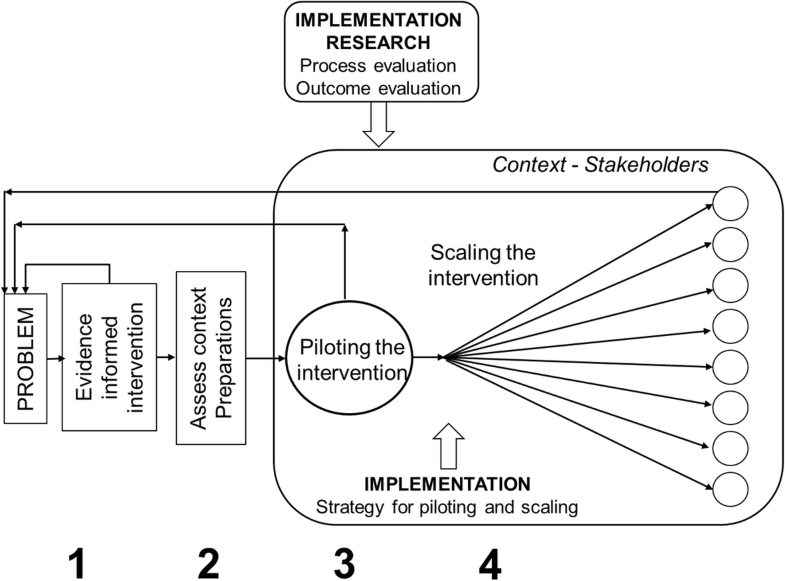 Discussion
Advocating EBHC in the primary care context, we developed a model for small-scale implementation accompanied by pragmatic process evaluation, in which relevance and feasibility were prioritized elements. This methodological article presents the principles and practical application of conduct and evaluation, setting out the four steps of the model, illustrated by a real-life example. Below, we discuss the impact of this model, including its strengths and weaknesses.
What is known from before? – what does this model add?
The model presented here was developed by GPs with clinical experiences from comparably small primary care organizations. Compared with the dimensions and structure of a hospital setting, primary care is more homogeneous and transparent, with fewer levels than specialist care organizations. Furthermore, we were not strangers from professional implementation companies but colleagues who were familiar with the context and working conditions of the place in which the intervention was to be implemented. Peer-driven implementation and evaluation are probably more common in primary care, because practitioners themselves realize specific needs for quality improvement and are often in charge of devising bottom-up strategies for change. Limited funding may inspire creative strategies and designs suited for everyday practice, emphasizing relevance and flexibility corresponding to Peters' recommendations [6]. Under such conditions, organizational readiness for change may be better accessible than in a large and complex organization, where assessment and the influence of change commitment and change efficacy require more professional investment. Nevertheless, our model can also be considered generic and thus applicable in small-scale settings beyond primary care.
We are not the first to suggest that patient care can be improved by the implementation of evidence-based interventions [6, 17, 19, 41]. There is already a vast amount of literature available about theories and strategies for behavioural change among individual professionals and their organizational contexts [1]. Furthermore, implementation research has in the last decades become a sub-discipline within health care systems research, offering and expecting ambitious and advanced methodological tools for the planning, monitoring and evaluation of implementation projects [16, 19, 42]. Among our colleagues, we have noticed that these trends seem to discourage innovative practitioners from initiating noteworthy ideas for implementation.
Greenhalgh and Wieringa suggest that research should leave behind the focus on a 'know–do gap' in order to create space for practical wisdom, tacit knowing, the complexities of the relationship between knowledge and power and enhance collaboration between research, policy decisions and clinical practice [43]. Implementation research is embedded in reality, and practitioners (rather than researchers) may articulate the problem and ask relevant questions as a starting point for new thinking [6].
In small-scale projects, implementation as well as implementation research are conducted by the same person, often an innovative enthusiast with a strong belief in the intervention. Methodological skills are therefore essential, especially the ability to establish an analytic distance from the field of action [44]. A pragmatic evaluation is not a casual and haphazard process but a science-informed strategy, in which transparency and systematic, critical reflection are supported by methodological skills. An important difference from a traditional research project is the meticulous priorities identified to assign resources for description and discussion of the processes according to contextual relevance.
Endorsing the idea that implementation research is science-informed practice [1], our model incorporates several distinctive features intended to encourage small-scale implementation projects in real life. First, the model – referring to EBHC – implies that research evidence about the intervention already exists: we do not start from scratch. In our example, KRI did not create the intervention, because it had already been designed, validated and published. Second, we do not confine our concept of evidence to effect. The relevance aspect of different kinds of available evidence, given the ambitions and the context of the project, is more important than choosing a specific design. In our example, CSDD was chosen because this tool was appropriate and simple. Third, we prioritize elaboration and adaptation of the intervention to match the context, rather than using a standardized version from a research setting. In our example, the manual for practical application of CSDD was elaborated in the pilot step. Fourth, we aim for evaluation methods with a capacity for systematic and transparent reflection, prioritizing selected issues relevant for sharing experiences from the process. In our example, a few low-key approaches for the collection and analysis of relevant data were matched by the limited resources available to the project, although they still provided useful information about ORC [14] to be used and shared.
Does the intervention work?
Cost-benefit logic implies that resources should not be wasted on interventions that do not work. The default image of a randomized controlled trial (RCT) readily comes to the mind of health care professionals when discussing intervention projects. There are, however, important differences between projects testing the effect of an intervention within the standardized context of an RCT and projects putting evidence from previously documented research into action within a complex real-life situation. In health care services research, the question of whether something works or not cannot be answered with a simple yes or no. The framing of the answer depends on the aim, context, outcome measures and other vital preconditions.
Referring to Cochrane [45], Rothwell asks the crucial question about the external validity of RCTs: "To whom do the results of this trial apply?" [46]. Consequently, conceptual accuracy is needed to evaluate the outcome of an intervention, distinguishing between efficacy (whether an intervention produces the expected result under ideal circumstances) and effectiveness (the degree of beneficial effect in "real-world" clinical settings) [47].
Still, our model does not include a mandatory element of effectiveness evaluation. Process evaluation is emphasized and given priority in the model, aiming for clear descriptions of the adapted intervention and experiences from putting it into action. This is because process evaluation is a logical precondition for outcome evaluation: it makes no sense to attempt to assess the efficacy or the effectiveness of a "black box" intervention [48] whose content is not distinctly indicated. For the evaluation of a small-scale intervention, knowledge about the nature and content of the intervention under real-life conditions, and how it was taken from knowledge to action, must come first. Was the intended intervention actually implemented, and in what format?
Our model conveys certain preferences that were specifically elaborated for a small-scale primary care context – a distinctive trait of the context our model is intended to serve. This prioritization does not imply that we consider outcome evaluation to be of no great concern. It is of course interesting and useful to find out to what degree outcome measures from the research context can be obtained in a real-life context. A small-scale implementation project might therefore grow to medium or large format, in which such evaluation is included, for example in the design of a pragmatic RCT [49].
Conclusion
Implementation research deserves a model consistent with the specific characteristics of the actual health care context. The inevitable uncertainty and unpredictability of primary health care have here been incorporated into a flexible and manageable approach, in which context and limited resources are considered. In finding an appropriate middle ground between rigour and flexibility, some compromises must be made and some ambitions must be balanced. Presenting this model specifically designed for small-scale implementation research, we remain grounded as practitioners. The model recognizes the skills of practical knowing as something other than traditional medical research, while also maintaining academic values such as systematic and transparent reflection, with adequate tools. Considering the purpose and the context of our model, we argue that these methodological priorities, emphasizing relevance and feasibility, are strengths, and not limitations.
Abbreviations
CSDD:

The Cornell Scale for Depression in Dementia
EBHC:

Evidence-based health care
EBM:

Evidence-based medicine
GP:

General practitioner
KRI:

Kristina Riis Iden (the last author)
ORC:

Organizational Readiness for Change
Ph.D.:

Philosophiae Doctor
RCT:

Randomized controlled trial
Declarations
Funding
The ongoing implementation project (presented here briefly for illustration purposes) is funded by the Norwegian Medical Association (#16/2077). Conception and writing this article was not funded from this grant.
Authors' contributions
KM conceived of the idea and the model and drafted the first manuscript. KRI contributed with specific information from an ongoing implementation project in which AA was also involved, used here for illustration purposes. All the authors (KM, AA and KRI) contributed to the development of the manuscript, reading and approving the final version.
Ethics approval and consent to participate
Not applicable.
Competing interests
The authors declare that they have no competing interests.
Publisher's Note
Springer Nature remains neutral with regard to jurisdictional claims in published maps and institutional affiliations.
Open AccessThis article is distributed under the terms of the Creative Commons Attribution 4.0 International License (http://creativecommons.org/licenses/by/4.0/), which permits unrestricted use, distribution, and reproduction in any medium, provided you give appropriate credit to the original author(s) and the source, provide a link to the Creative Commons license, and indicate if changes were made. The Creative Commons Public Domain Dedication waiver (http://creativecommons.org/publicdomain/zero/1.0/) applies to the data made available in this article, unless otherwise stated.
Authors' Affiliations
(1)
Research Unit for General Practice, Uni Research Health, Uni Research, Bergen, Norway
(2)
The Research Unit for General Practice and Section of General Practice, Department of Public Health, University of Copenhagen, Copenhagen, Denmark
(3)
Department of Global Public Health and Primary Care, University of Bergen, Bergen, Norway