Research article
Open Access
Open Peer Review
This article has Open Peer Review reports available.
Knowledge structure and theme trends analysis on general practitioner research: A Co-word perspective
BMC Family Practice
BMC series – open, inclusive and trusted
2016
17:10
Received: 6 December 2014
Accepted: 15 January 2016
Published: 29 January 2016
Abstract
Background
General practitioners (GPs) are the most important providers of primary health care, as proven by related research published several decades ago. However, the knowledge structure and theme trends of such research remain unclear. Accordingly, this study aimed to provide an overview of the development of research on GPs over the period of 1999 to 2014.
Methods
Studies on GPs conducted from 1999 to 2014 were retrieved from PubMed. In this work, co-word, social network analysis, and theme trends analyses were conducted to reveal the knowledge structures and thematic evolution of research on GPs.
Results
The number of conducted studies on GPs increased. However, growth speed slowed down during the past 16 years. A total of 27 high-frequency keywords were identified in 1999 to 2003, and more new and specific high-frequency keywords emerged in the subsequent periods. The dynamic of this field was first divergent and then considered convergent. Specifically, network centralization is 19.77 %, 19.09 %, and 13.04 % in 1999 to 2003, 2004 to 2008 and 2009 to 2014, respectively. The major topics of research on GPs completed from 1999 to 2014 were "physician/family,""attitude of health personnel," and "primary health care," and "general practitioner" communities, and so on.
Conclusion
The research themes on GPs are relatively stable at the beginning of the 21st century. However, the thematic evolution and research topics of research on GPs are changing dynamically in recent years. Themes related to the roles and competencies of GPs, and the relations between general practitioner and patients/others have become research foci on GPs. In addition, more substantial research especially on comprehensive approaches and holistic modeling, which have been defined in the European Definition of General Practice/Family Medicine, are expected to be accomplished.
Keywords
General practitionersResearch trendsCo-word analysisSocial network analysisKnowledge map
Background
High-quality primary care is the foundation of effective and efficient health care systems. The essential elements of the practice of primary care include accessibility as the first-contact point of entry to the health care system, continuity, comprehensiveness, coordination of referrals, and understanding of the family and community context of health [1–3]. General practice is a key discipline of primary care, and in many countries, general practitioners (GPs) are physicians who are directly accessible to the public. Thus, strengthening the knowledge structure and analyzing theme trends in GPs will contribute to the provision of better health care for all [4, 5].
Historically, the role of a GP was once performed by any doctor qualified in a medical school working in the community [6]. However, since the 1950s, general practice has become a specialty in its own right, with specific training requirements tailored to each country. The Alma Ata Declaration in 1978 set the intellectual foundation of what primary care and general practice should be [7–9]. Currently, GPs are specialist physicians trained in the principles of the discipline [10]. They are personal doctors who are responsible primarily for the provision of comprehensive and continuing care to every individual seeking medical care irrespective of age, sex, and illness. GPs care for individuals in the context of their family, their community and their culture, always respecting the autonomy of their patients [11–13]. The core competencies of GPs are primary care management, person-centered care, specific problem solving skills comprehensive approach, community orientation, and holistic modeling. However, the role of a GP can vary greatly between (or even within) countries [14]. In urban areas of developed countries, their roles tend to be narrower and focused on the care of chronic health problems, treatment of acute non-life-threatening diseases, early detection and referral to specialized care of patients with serious diseases, and preventative care including health education and immunization. However, in developing countries or in the rural areas of developed countries, a GP may be routinely involved in pre-hospital emergency care, the delivery of babies, community hospital care, and performance of low-complexity surgical procedures. Moreover, in some healthcare systems, GPs work in primary care centers where they play a central role in the healthcare team, whereas GPs can work as single-handed practitioners in other models of care [15, 16].
Entering the 21st century, the connotation and role of GPs was also developed with changes of society and health reform all over the world. In particular, GPs not only provide comprehensive and compassionate health care services in the context of individual needs, their families and communities, but also play a vital role in reducing health inequalities and in delivering high-quality and cost-effective care. The role of GPs as primary care physicians in health risk factor interventions has been well introduced in the literature [17–20]. Many researchers have suggested that GPs can contribute to reducing the prevalence of smoking or alcohol misuse. Moreover, GPs encourage lifestyle changes, especially in nutrition and physical activities. Patients primarily obtain worthy information on nutrition or physical activity from GPs [21]. Hence, to understand the knowledge structure and theme trends on general practitioners further, we use co-word analysis and related technologies in this paper to reveal the research evolution and trends of major themes and knowledge structure on GPs, probe features of the major themes and its development process, and provide an overview of the development trends in the field of GPs during 1999–2014 based on the PubMed database [22–25].
Results
The entire set of data was divided into three periods, namely, 1999 to 2003, 2004 to 2008 and 2009 to 2014, to display the hotspots and developments of research on GPs clearly. Table
1
indicates that the high-frequency major MeSH terms, with less than 3 % proportion, have a total frequency accounting for approximately 50 % of the total frequency of major MeSH terms. All these high-frequency MeSH terms provide the hot topics analyzed in substantial research on GPs.
Table 1
Descriptive statistics for each measure of research on GP conducted from 1999–2014
| Periods | Total papers | Total major MeSH terms | Total frequency of major MeSH terms | Total major MeSH terms with high frequency (n, %) | Total frequency of major MeSH terms with high frequency (n, %) | N |
| --- | --- | --- | --- | --- | --- | --- |
| 1999 to 2003 | 2453 | 1362 | 9492 | 27 (1.98) | 4583 (48.28) | 34.57 |
| 2004 to 2008 | 3521 | 1792 | 13989 | 41 (2.29) | 7061 (50.47) | 39.43 |
| 2009–2014 | 4729 | 2093 | 19214 | 64 (3.06) | 10366 (53.95) | 41.83 |
| Total | 10703 | 5247 | 42695 | 132 (2.52) | 22010 (51.76) | —— |
Figure
1
reveals the publication trend of research on GPs conducted all over the world from 1999–2014. The figure shows that considerable research on GPs has been well developed since 1999, with 392 records. The number of papers annually increased from 1999–2003 with a period of slow growth. Subsequently, the number of papers continued to increase rapidly and attained a peak in 2008, although a slight decline occurred in 2004. However, a fluctuating decline trend was observed after 2008 (for details, see Table
2
).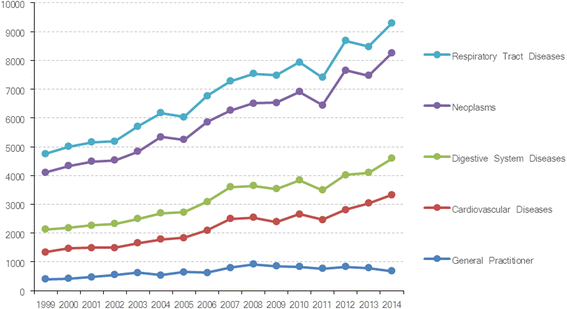 Table 2
Worldwide publication trends of research on GPs
| Year | Records | Cumulative | RGR | Dt |
| --- | --- | --- | --- | --- |
| 1999 | 392 | 392 | — | — |
| 2000 | 414 | 806 | 0.72 | 0.96 |
| 2001 | 474 | 1280 | 0.46 | 1.50 |
| 2002 | 550 | 1830 | 0.36 | 1.94 |
| 2003 | 623 | 2453 | 0.29 | 2.37 |
| 2004 | 535 | 2988 | 0.20 | 3.51 |
| 2005 | 644 | 3632 | 0.20 | 3.55 |
| 2006 | 627 | 4259 | 0.16 | 4.35 |
| 2007 | 798 | 5057 | 0.17 | 4.04 |
| 2008 | 918 | 5975 | 0.17 | 4.16 |
| 2009 | 846 | 6821 | 0.13 | 5.23 |
| 2010 | 825 | 7646 | 0.11 | 6.07 |
| 2011 | 765 | 8411 | 0.10 | 7.27 |
| 2012 | 831 | 9242 | 0.09 | 7.36 |
| 2013 | 788 | 10030 | 0.08 | 8.47 |
| 2014 | 674 | 10704 | 0.07 | 10.66 |
As shown in Table 2, for the last 16 years, the worldwide RGR achieved an average value of 0.22 and an average Dt of 4.76. Moreover, RGR dropped from 0.72 in 2000 to 0.16 in 2006, but slightly increased to 0.17 in 2007 and 2008. The RGR continuously dropped until it attained a value of 0.07 in 2014. The Dt reflected a similar trend, in which it increased from 0.96 in 2000 to 10.66 in 2014. These findings suggest that the growth speed of GP-related publications has slowed down in the 16 years. This specific result conforms to the outcomes presented in Fig. 1.
As shown in Fig. 1, although research on GPs has increased during last decades, compared with other fields (e.g., cardiovascular diseases, digestive system diseases, neoplasms and respiratory tract diseases), the gaps between GPs and others has become much larger. In 1999, GP-related papers accounted for 0.08 % of all papers in PubMed and reached a peak in 2008 (0.12 %). Then, the growth speed of GP-related research became increasingly lower compared with other fields and the entire field of medicine. The results conform to the outcomes presented in Table 2.
Conclusions
Scientometrics, co-word analysis, and social network analysis were combined and used to reveal the knowledge structures and thematic evolution of research on GPs published from 1999–2014. The number of studies on GPs has rapidly increased but the growth rate has decreased to some extent. The gaps between GPs and others (e.g., cardiovascular diseases, digestive system diseases, neoplasms, and respiratory tract diseases) have also been growing in recent years.
The research on GPs varies and develops with the changes in health care reforms, health policies, and functions of GPs in many countries, especially in recent years. The multiple roles and competency improvement of GPs, as well as the relations between GPs and patients/others involved (e.g., health care providers) have reflected the core competencies of GPs, especially in primary care management, person-centered care, specific problem solving skills and community-orientation, in accordance with the European Definition of General Practice/Family Medicine [67]. More substantial research, especially on comprehensive approaches, olistic modeling, patient empowerment, and continuous quality improvement should be accomplished. This study also anticipates that, owing to the growth of the elderly population, elderly persons shall be the main topics of the major specific groups in GP-related research.
Limitations
First, literature was extracted only from the PubMed database, which may not contain all literature related to GP research, especially non-English articles and some grey literature (e.g., reports or internal materials). Second, only high-frequency words were analyzed; hence, the results could only show the hot topics on GP-related research. Some new emerging topics with low attention may not have been shown in the map. Therefore, analyses combining multiple databases and new emerging topics should be conducted in future studies.
Abbreviations
GPs:

General practitioners
BICOMB:

Bibliographic item co-occurrence matrix builder
RGR:

relative growth rate
Dt:

double time
Declarations
Acknowledgements
The authors are grateful to Lan Yao and Hassan Dib for their helpful discussion and suggestions. The authors would also like to thank the anonymous reviewers for their valuable comments.
Funding
This research was sponsored by the China Health Promotion Foundation (no. 0231516031).
Open AccessThis article is distributed under the terms of the Creative Commons Attribution 4.0 International License (http://creativecommons.org/licenses/by/4.0/), which permits unrestricted use, distribution, and reproduction in any medium, provided you give appropriate credit to the original author(s) and the source, provide a link to the Creative Commons license, and indicate if changes were made. The Creative Commons Public Domain Dedication waiver (http://creativecommons.org/publicdomain/zero/1.0/) applies to the data made available in this article, unless otherwise stated.
Authors' Affiliations
(1)
School of Medicine and Health Management, Tongji Medical College, Huazhong University of Science and Technology, Wuhan, China
(2)
School of Political Science and Public Administration, Wuhan University, Wuhan, China