Research article

Open Access

Open Peer Review
This article has Open Peer Review reports available.
Effect of facemasks on empathy and relational continuity: a randomised controlled trial in primary care
BMC Family Practice
2013
14:200
Received: 21 August 2013
Accepted: 17 December 2013
Published: 24 December 2013
Abstract
Background
There is limited evidence to support the use of facemasks in preventing infection for primary care professionals. Negative effects on communication has been suggested when the physician wears a facemask. As communication skills and doctor patient relationship are essential to primary care consultations, the effects of doctor's facemask wearing were explored.
Method
A randomised controlled study was conducted in primary care to explore the effects of doctors wearing facemasks on patients' perception of doctors' empathy, patient enablement and patient satisfaction. Primary care doctors were randomized to mask wearing and non mask wearing clinical consultations in public primary care clinics in Hong Kong. Patients' views were gathered using the Consultation and Relational Empathy (CARE) Measure, Patient Enablement Instrument (PEI) and an overall satisfaction rating scale. The effects of face mask wearing were investigated using multilevel (hierarchical) modelling.
Results
1,030 patients were randomised to doctor-mask wearing consultations (n = 514) and non mask wearing consultations (n = 516). A significant and negative effect was found in the patients' perception of the doctors' empathy (CARE score reduction -0.98, p-value = 0.04). In the more established doctor-patient relationship, the effect of doctors' mask wearing was more pronounced (CARE score reduction -5.67, p-value = 0.03).
Conclusion
This study demonstrates that when doctors wearing a facemask during consultations, this has a significant negative impact on the patient's perceived empathy and diminish the positive effects of relational continuity. Consideration should be taken in planning appropriate use of facemasks in infectious disease policy for primary care and other healthcare professionals at a national, local or practice level.
Clinical trial registration
This trial was registered on Chinese Clinical Trial Register (ChiCTR). Registration no.: ChiCTR-TTRCC-12002519. URL: http://www.chictr.org/en/proj/show.aspx?proj=3486. Due to administrative error, registration of trial did not take place until after the trial started on 1st August 2011 and registration number was released on 21st September 2012.
Keywords
Public health
Primary health care
General practice
Continuity of patient care
Empathy
Background
Since the global outbreak of pandemic influenza and severe acute respiratory syndrome (SARS), wearing facemasks is common practice for healthcare providers in clinical settings in many countries in Asia. A facemask is a loose fitting disposable device covering the wearer's nose and mouth and acts as a physical barrier to potential contaminants in the immediate environment but can have limited effectiveness in blocking small particles. There is little proven benefit in the sole use of facemask (without hand washing) to prevent healthcare personnel from contracting infections in randomized control trials [1–3], with research conducted during the SARS outbreak suggesting a potential negative impact of infection precaution measures including mask wearing, on the domain of doctors' empathy of a patient satisfaction questionnaire [4].
The doctor-patient interaction is essential for optimum information exchange and medical decision making [5–7], and a crucial component of the quality of primary care consultations [8–10]. It has been shown that nonverbal communication is important for the therapeutic relationship [11] and is related to patients' adherence to medical advice and medication compliance, patient satisfaction and positive clinical outcomes [12–16]. The importance of emotional perception, expression and reciprocity in non verbal communication was postulated to impact the outcome of the doctor-patient interaction [11]. Studies in non clinical contexts have shown that subliminal facial expressions can influence the viewer's emotional state, attitudes and subsequent behaviours [17, 18]. However, only a few studies have looked at the influence of facial expressions on patient health outcomes [14, 19]; eye contact was a strong predictor of a positively rated doctor patient interaction [19], whilst doctors' distancing behaviour, such as not smiling and looking away was perceived negatively by patients [14]. During hospital admissions, facial expressiveness (such as smiling, nodding, frowning) of physical therapists were associated with an improvement in ability to perform activities of daily living and also a decrease in confusion for elderly patients [14].
Within the doctor patient consultation, patient's perception of doctor's empathy has been shown to be essential in developing trust, communication and a therapeutic alliance [10, 20, 21]. Studies have demonstrated the impact of doctors' empathy and patient centred care on patient enablement [22] and health outcomes [6, 23] in both chronic and acute conditions [24–27]. In this study, a randomized control trial was conducted to explore the effects of facemask wearing among primary care doctors in Hong Kong on patients' perception of the doctors' empathy. We hypothesized that patients who consulted mask wearing doctors would report lower scores in doctors' empathy when compared to non mask wearing doctors, due to physical obstruction of facial expressions and the subsequent impact on the perceived empathic response. We also explored the effects of facemask wearing on patient enablement and patient satisfaction. In addition, we hypothesized that the effect of facemask wearing is minimal when the patient knows the doctor well and there is an established therapeutic rapport.
Results and discussion
During the study period, 1031 patients were recruited consecutively in the study sessions, of which only one patient was excluded from the analysis as the doctor was required to remove the facemask as the patient was unable to hear (Figure
1
). All patients consulted the participating doctor only once during the study period. The number of patients participating per doctor ranged from 103 to 128 for the nine doctors. The characteristics of the patients are shown in Table
1
. The gender and age group distribution of the participating patients were similar to previous Chinese-CARE measure studies in Hong Kong [
30
,
31
]. Between the MASK and NoMASK groups, age and education differed significantly. Thus age and education were included in the process of mixed model building to adjust for the potential confounding effect. The distributions of the four known important Chinese-CARE score predictors (general health, type of problem, knowing the doctor and consultation time length) were similar between both MASK and NoMASK groups, but were also included for the analysis as independent predictors.
Table 1
Characteristics of patients recruited in the doctor-mask wearing (MASK) and non mask wearing (NoMASK) clinical consultations
| | NoMASK | MASK |
| --- | --- | --- |
| | No (%) | No (%) |
| Age | | |
|  <44 | 77 (15.0) | 60 (11.7) |
|  45-64 | 251 (48.7) | 215 (41.7) |
|  >65 | 187 (36.3) | 238 (46.2) |
| Gender | | |
|  Female | 306 (59.4) | 304 (59.0) |
|  Male | 209 (40.6) | 207 (40.2) |
| Education | | |
|  Primary or Below | 210 (40.9) | 259 (50.9) |
|  Above Primary | 303 (59.1) | 250 (49.1) |
| General Health over last 12 months | | |
|  Very bad/Bad | 89 (17.4) | 94 (18.4) |
|  Fair | 295 (57.7) | 291 (56.9) |
|  Good/Very Good | 127 (24.9) | 127 (24.9) |
| Knowing the doctor | | |
|  Not Well/Neutral | 494 (96.0) | 490 (95.1) |
|  Quite Well/Very Well | 21 (4.1) | 23 (4.5) |
| Nature of the problem | | |
|  New (acute) illness | 102 (19.8) | 77 (15.0) |
|  Old (chronic) illness | 386 (74.8) | 418 (81.5) |
|  Both new and old | 28 (5.4) | 18 (3.5) |
| Duration of consultation, mean (SD) | 7.64 (4.55) | 7.67 (4.85) |
The mean CARE score of the MASK group (33.93) was significantly lower (p = 0.04) than the mean of NoMASK group (34.91) (Table
2
). There were no significant differences between mean scores of patient satisfaction and patient enablement between the two groups, which was confirmed by regression analysis. Table
2
illustrates the unadjusted mean score value of CARE, PEI and satisfaction of the two groups.
Table 2
Table showing CARE scores, patient enablement index (PEI) and patient satisfaction scores in doctor- mask wearing (MASK) and non mask wearing (NoMASK) clinical consultations
Mean ± standard deviation

NoMASK

MASK

Pr(>|t|)

Total CARE scores

34.91 ± 7.84

33.93 ± 7.65

0.043

PEI

2.60 ± 2.53

2.56 ± 2.41

0.869

Patient Satisfaction

5.69 ± 0.95

5.62 ± 1.04

0.251
Among the four established CARE related predictors, "knowing the doctor" was pre- identified as a doctor-related factor that may potentially interact with facemask wearing on CARE measure. Figure
2
shows the total raw CARE score plotted by mask status and "knowing the doctor". Patients that were familiar with their doctor had, on average, higher CARE score than patients that were not familiar with their doctor (7.25 CARE score difference). Wearing a mask had little effect when the patient didn't know the doctor well (-0.84 CARE score difference), but among patients who knew their doctor well, CARE scores were further reduced by (-4.71 CARE score difference). This suggests a potential interaction effect.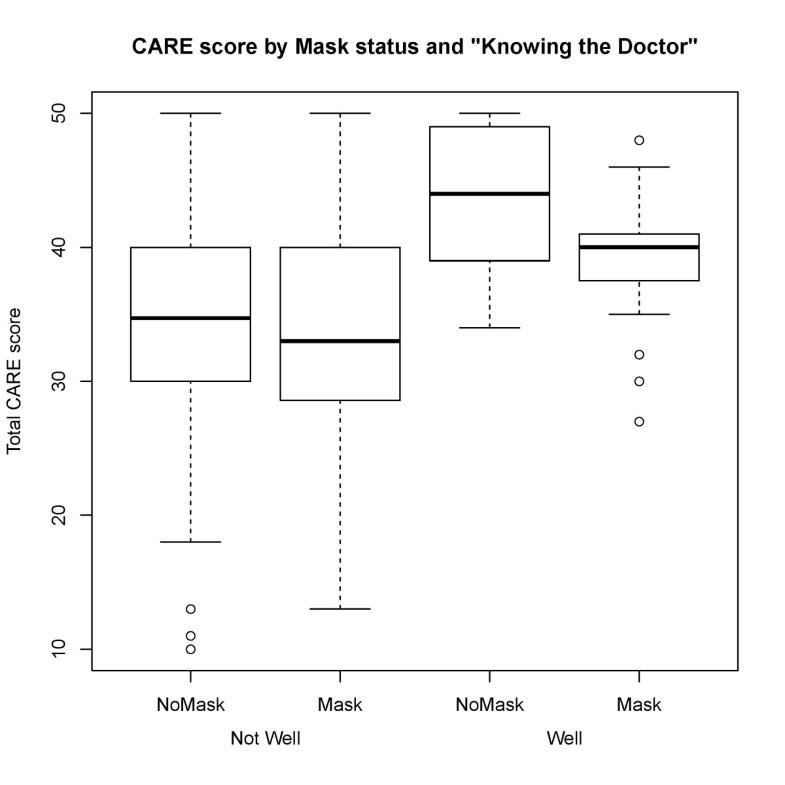 Conclusion
Summary
In this large randomized controlled trial, we found that the wearing of facemasks by doctors had little effect on patient enablement and satisfaction but had a significant and negative effect on patients' perceptions of the doctors' empathy. (33.93-34.91 = -0.98, p-value = 0.04). In subgroup analysis of whom patients reported an established doctor-patient relationship, the effect of doctors' mask wearing was more pronounced (CARE score reduction -5.67, p-value = 0.03).
Implications for research and practice
Communicating with patients
Identifying specific non verbal behaviours that enhance relational empathy and continuity could yield important tools for an effective therapeutic relationship in optimising a patient's health outcomes. Further studies into the complexities of the doctor patient relationship could explore doctors' own experience of facemask use on consulting behaviour and patient care along with other health professionals that have a continuous therapeutic relationship with patients (e.g., nurses, counsellors etc.). In addition, further studies to look into the role of facial expressions and micro-expressions, and the effect of concealment of expressions in emotional exchange in communication, may be particularly relevant in some cultures requiring veiling of the face (e.g., burka in muslim women) or clinical situations where empathy is essential (e.g., palliative care).
Infection control measures
The findings of this study are important in weighing up the benefits and risks of protective facemasks within doctor patient consultations and daily clinical practice. Facemasks offer limited protection in preventing infection [3] and aerosol transmission [35] through mucous membranes (i.e., conjunctivae). Meanwhile, a negative impact on the patient's perceived empathy and relational continuity can reduce potential therapeutic effects such as decreased depression, improved immune response, improved quality of life and improved health outcomes [36, 37]. In some countries and clinical institutions where facemask wearing has become mandatory and universal, review of current policies may be warranted in light of our current findings. For countries in which wearing facemasks is uncommon, care must be taken in conveying effective infection risk advice to healthcare professionals and caution in adopting guidelines regarding universal mask use (e.g., flu epidemics) particularly for medical physicians or other healthcare professionals where optimization of the therapeutic relationship is essential.
Ethics approval
Ethical approval was obtained from the Joint CUHK-NTEC Clinical Research Ethical Committee (Ref. no.: CRE-2011.306-T) before the start of the trial.
Declarations
Acknowledgements
None
Funding
This study was funded by the Research Committee Direct Grant for Research, The Chinese University of Hong Kong. Reference number: 2010.2.066. URL: http://www.cuhk.edu.hk/rao/about_rao.html. The funder had no role in study design, data collection and analysis, decision to publish, or preparation of the manuscript.
Authors' Affiliations
(1)
JC School of Public Health and Primary Care, The Chinese University of Hong Kong, Shatin, Hong Kong
(2)
General Practice and Primary Care, Institute of Health and Wellbeing, College of Medical, Veterinary and Life Sciences, University of Glasgow, Glasgow, UK
Copyright
© Wong et al.; licensee BioMed Central Ltd. 2013
This article is published under license to BioMed Central Ltd. This is an open access article distributed under the terms of the Creative Commons Attribution License (http://creativecommons.org/licenses/by/2.0), which permits unrestricted use, distribution, and reproduction in any medium, provided the original work is properly cited.