Research article
Open Access
Open Peer Review
This article has Open Peer Review reports available.
Managing depression in primary care: A meta-synthesis of qualitative and quantitative research from the UK to identify barriers and facilitators
BMC Family Practice
2011
12:47
Received: 13 January 2011
Accepted: 9 June 2011
Published: 9 June 2011
Abstract
Background
Current management in primary care of depression, with or without comorbid physical illness, has been found to be suboptimal. We therefore conducted a systematic review to identify clinician perceived barriers to and facilitators for good depression care.
Methods
We conducted a systematic literature search to identify qualitative and quantitative studies published in the UK since 2000 of GPs' and practice nurses' attitudes to the management of depression. We used principles from meta-ethnography to identify common and refuted themes across studies.
Results
We identified 7 qualitative and 10 quantitative studies; none concerned depression and co-morbid physical illness of any kind. The studies of managing patients with a primary diagnosis of depression indicated that GPs and PNs are unsure of the exact nature of the relationship between mood and social problems and of their role in managing it. Among some clinicians, ambivalent attitudes to working with depressed people, a lack of confidence, the use of a limited number of management options and a belief that a diagnosis of depression is stigmatising complicate the management of depression.
Conclusions
Detection and management of depression is considered complex. In particular, primary care clinicians need guidance to address the social needs of depressed patients. It is not known whether the same issues are important when managing depressed people with co-morbid physical illness.
Keywords
Coronary Heart DiseasePhysical IllnessPsychological TherapyMental Health TrainingOrder Construct
Background
Depression affects about 121 million people worldwide, and an estimated 5.8% of men and 9.5% of women will experience a depressive episode every year [1]. Depression is a major cause of disability and distress [2] and is expected to become the second most common cause of loss of disability-adjusted life years in the world by 2020 [3]. Rates of depression co-morbid with chronic physical illnesses such as coronary heart disease (CHD),[4–6] asthma [7–9] and rheumatoid arthritis [10] are increased compared to those in the general population [11]. When physical illness and depression co-exist, the conditions interact resulting in worse outcomes; for instance patients with CHD and depression have an approximate two-fold increase in morbidity and mortality [4–6].
In the UK 90-95% of patients with depression are treated solely in primary care [12], however, management is often suboptimal [13]. Clinical practice is likely to be influenced by clinicians' attitudes [14, 15], we therefore conducted a systematic review of qualitative and quantitative studies of GPs' and PNs' attitudes to managing depression. Our aim was to identify potential barriers to and facilitators for good depression care. To do this, we used principles drawn from meta-ethnography [16] and recent guidelines for producing narrative syntheses [17] to identify common and refuted themes across studies.
Methods
Eligibility criteria
Inclusion criteria
1) Qualitative or quantitative studies containing GP or PN generated data concerning their attitudes towards and experiences of managing depression.
2) Studies published in 2000 or later. This was a pragmatic method of including a manageable number of studies and ensured we obtained data on current and relevant attitudes (2000 is after the publication of the National Service Framework for Mental Health [18]).
Exclusion criteria
1) Studies not conducted in UK primary care settings. This was in order to obtain attitudes relevant to primary care practice in the UK, which is where a planned new intervention will be trialled.
2) Studies focusing on a single aspect of management, e.g. antidepressant prescribing. This was because our aim was to identify broad themes which could be addressed in planned later studies specific to CHD and co-morbid depression.
3) Studies of 'psychological distress', post-natal depression, intervention studies of depression education and validation studies of attitude questionnaires. These studies were considered unlikely to provide data which could inform primary care depression management.
Information Sources and Search
With the help of a specialist librarian, we devised a search strategy based on terms relating to depression, primary care and attitudes (Appendix 1). This was adapted for 4 databases (Medline, Embase, Psychinfo, British Nursing Index and Archives; search date 30th June 2008). We also searched the reference lists of obtained papers.
Study Selection
Titles and abstracts were screened for relevance by 1 reviewer (EB); where this was unclear, the full text was obtained. The full texts of potentially relevant articles were assessed independently by two reviewers (EB and JM). Agreement was measured using Cohen's Kappa and disagreements resolved by discussion.
Quality assessment of included studies
Two reviewers (EB, JM) independently assessed each paper for methodological quality. For qualitative papers, the CASP checklist [19]was used. As there is no established instrument for quantitative observational studies,[20] we devised a simple checklist based on the STROBE statement [21] and a recent review of tools to assess bias in observational studies [22] (Appendix 2). Agreement was measured using Cohen's Kappa weighted for closeness of scores. Disagreements were resolved by discussion. In qualitative synthesis there is a tension between study quality and relevance,[23] so in common with other such syntheses [24, 25] an inclusive approach was taken. Quality judgements were not used to exclude papers, but, the strength of findings was tested by examining whether they were supported by studies in the upper tertile of scores [25].
Data Collection Process and Data Items
Data concerning participant characteristics, aims, setting and methods were extracted independently by two authors (JM and EB) (Additional File 1. Table 1). Two further types of data were extracted:
1. First order constructs [26]: reported attitudes and experiences of GPs and PNs (qualitative papers) and summaries of participant responses to questionnaire items (quantitative papers).
2. Second order constructs [26]: author-derived themes, conclusions, interpretations and recommendations (qualitative papers) and results headings, conclusions and recommendations (quantitative papers).
Extracted data were tabulated. The original wording or a paraphrase was used to preserve meaning [27]. The tables were examined and discussed by two authors (EB and JM) in order to ensure agreement and that second order constructs were grounded in clinician-generated data (first order constructs).
Synthesis of Results
A grid was produced using SPSS. The rows were the included papers and the columns were second order constructs. The second order constructs were translated across studies by combining columns with broadly related headings. Two authors (EB and JM) performed reciprocal and refutational syntheses [28] to identify and summarise shared constructs across studies and constructs that were contested between or within papers. These syntheses were performed simultaneously as this is considered most informative [29]. The resulting syntheses or 'translations' were agreed by all authors through discussion. The research team included an academic GP (AT), a psychiatrist (PW) and qualitative health researcher (JM) and a health psychologist and nurse (EB).
Results
We identified 826 papers; following the initial screen, 53 were reviewed in detail. 25 were not from the UK. The remaining 28 were screened independently by 2 authors (EB and JM). 17 papers (7 qualitative and 10 quantitative) were included in the review (Cohen's Kappa = 0.68). This process and the reasons for exclusion are shown in Figure
1
.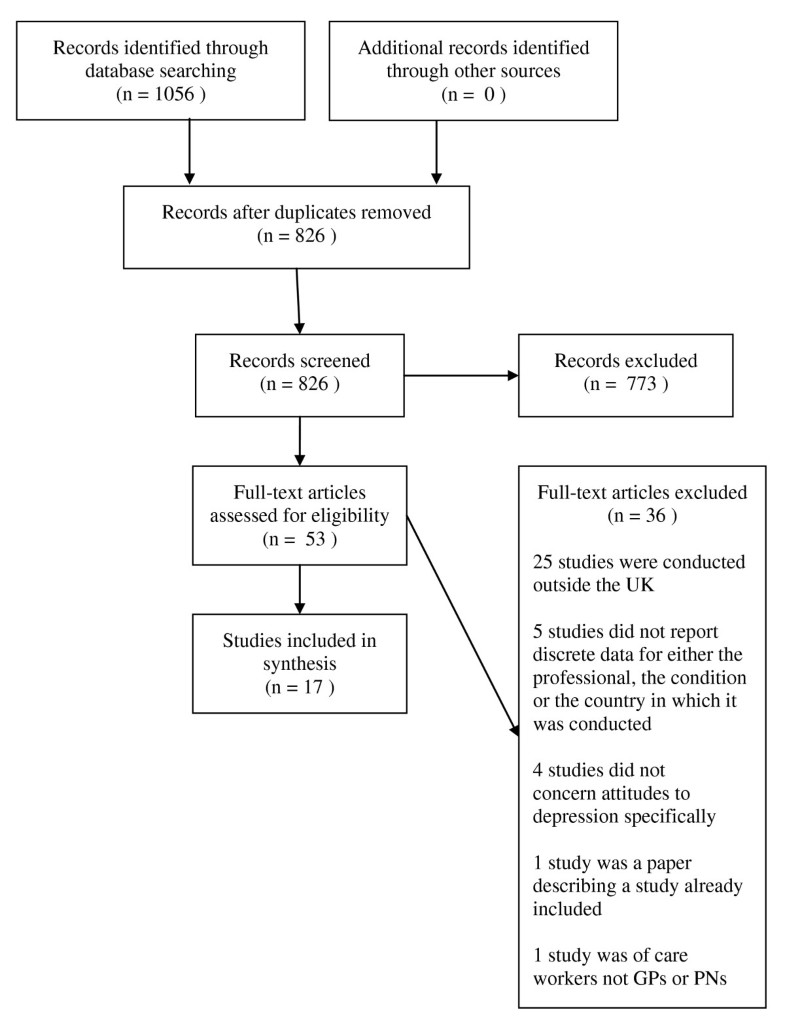 All the studies concerned adults. Four studies focused on older adults (late-life depression); we report findings separately for this population only where differences were apparent. We found no studies of managing depression co-morbid with physical illness. Characteristics of the included studies are shown in Additional File 1.Table 1. They provide data from 2,738 GPs (2,595 in quantitative studies) and 476 PNs (466 in quantitative studies) who vary in gender, age, years in practice, practice type, geographical location, level of mental health training and ethnicity. In most studies, discrete data for GPs and PNs were not reported, accordingly, in our synthesis their data are combined and identified differences highlighted.
Quality assessment
Agreement for qualitative papers was good (weighted kappa = 0.62). All but 2 [30, 31] (CASP score of 5 out of 10), were rated as of at least reasonable quality (CASP score ≥ 7). Agreement was also good for quantitative papers (weighted kappa = 0.73). We considered most of these to be low quality (achieving ≤ 4 out of 7 quality markers). They suffered from poor response rates and lack of a validated instrument to measure attitudes (Additional File 1. Table 1), few reported their selection criteria.
Second order constructs
Most of the qualitative studies reported a simple thematic analysis and the data from the quantitative studies tended to represent similar themes. We identified 7 second order constructs; all were supported by at least one good quality study and by both qualitative and quantitative data. The identified second order constructs and supporting data from each paper are summarised in Additional File 2. Table 2. Other issues, which were identified and used to inform the synthesis, were the effects of patient gender, ethnicity and age.
Discussion
This systematic review of British GPs' and PNs' attitudes did not identify any studies concerning the management of depression co-morbid with physical illness despite the common co-occurrence of mental and physical disorders [11]. The identified themes indicate barriers to and facilitators for good care in patients with a primary diagnosis of depression. Below we consider how these may relate to the care of people with depression and co-morbid physical illness.
This review indicates that depression and its diagnosis are considered complex. This is unsurprising since there is ongoing debate as to the nature of depression [47], the 'medicalisation of misery' [48] and the appropriateness of different case-finding tools [49, 50] which complicates judgements about whether depression is 'under-diagnosed' or 'optimally treated' [48]. The use of case-finding tools was discussed in some of the included studies, but most of these were conducted prior to the introduction of financial incentives under the Quality and Outcomes Framework of the UK GP contract [51] in 2006 when their use became routine. A recent study [49] found, as did this review, that there is ambivalence among GPs as to their use. The detection of depression in people with physical illness, such as CHD is likely to be viewed as even more complicated given the overlap between somatic symptoms of depression and of CHD and the potential for increased anxiety in people with CHD which may also be associated with depression [52].
Management of depression is perceived as particularly complex when patients present with social problems. That GPs and PNs are aware of the relationship between social and mood problems is clear from this review, but they are unsure of its exact nature and of their role in managing it. This uncertainty may be exacerbated by a lack of attention in guidelines concerning the influence of social problems on response to treatment [53]. It may be especially important to address social problems in depressed patients where co-morbid physical illness has resulted in impaired functioning. Enhanced depression care interventions such as stepped care or collaborative care, which provide depression severity related treatment guidance to clinicians, have been shown to improve depression in chronic diseases such as diabetes and heart disease, although mortality or other disease outcomes have not improved [54–57]. However, such research has often been conducted using case detection questionnaires to identifying participants. As such, this may not reflect clinical practice where a dimensional approach to diagnosis of depression is often taken [58]. This may be particularly the case for milder forms of depression.
The other issues identified by this review, such as ambivalent attitudes to working with depressed people, a lack of confidence among some clinicians in their ability to manage this condition, the use of a limited number of management options and a belief that some patients will feel stigmatised by a diagnosis of depression also complicate the management of depression. Nevertheless, in a recent qualitative study,[59] GPs reported being able to balance a range of complex factors such as the patients' clinical presentation and motivation and their own ability to help in terms of time, skills and expertise in their decisions to refer patients for psychotherapy. It is not known whether this is the case when managing patients with depression and co-morbid physical illness.
This review has also shown that GPs and PNs vary widely in their attitudes to, confidence in and knowledge about managing depression. Most of the data is from GPs, but from the available data, PNs appear to have similar views on many issues. PNs may be less likely to manage depression than GPs, but where depression is comorbid with physical illness PNs' views may be more important since they are taking an increasing lead in chronic disease management.
Strengths and Limitations of this review
There is no consensus concerning selection of studies for inclusion in syntheses of qualitative studies [29] or syntheses of both qualitative and quantitative studies [60]. Syntheses of qualitative studies have been conducted using a small sample of key studies [27] or the first 10 relevant papers located [61]. In common with previous work,[29] we aimed to include sufficient studies to provide a manageable quantity of rich data and as such devised a search strategy that was specific rather than overly sensitive. Since we aimed to identify broad themes, only studies which considered the whole depression management process were included. Studies which considered specific aspects, e.g. antidepressant use,[14] were excluded but may further explain the themes that we have identified.
We were interested in current experiences in the UK so we only included recent British studies, this review is therefore limited in its consideration of cross-cultural issues in managing depression. Some data concerning attitudes towards managing depression in different ethic groups was identified, but this is limited to studies of late-life depression. It is not possible to determine from this review whether this is due to a lack of emphasis on this issue in the included studies or whether the GPs and PNs studied did not consider ethnicity to be an important factor when managing depression in younger people.
A strength of this review is that the synthesis incorporates diverse perspectives from reviewers with clinical and academic knowledge of depression. This is important as syntheses of descriptive studies necessarily involve interpretation of data [23]. This contrasts with systematic reviews of treatment studies which aim to aggregate data in a way that minimises the impact of reviewer opinion (bias) [23].
'Bias' is reduced, or made explicit, in reviews of descriptive data through transparency of methodology. Here, this was achieved through the use of techniques from established qualitative synthesis methodologies such as meta-ethnography,[28] critical interpretive synthesis [29] and recent guidelines [17]. For instance whether primary study authors' interpretations (second order constructs)[26] were grounded in participant data (first order constructs)[26] was tested, primary study authors' own words were extracted [27, 62] and agreements and disagreements between studies (reciprocal and refutational synthesis) were sought throughout the process [15].
In order to obtain the richest possible dataset, qualitative and quantitative studies were included. However, there is no established methodology for combining data from both types of study [60]. The comparability of studies using different methodologies was therefore tested by tabulating study type within each identified construct (Additional File 2. Table 2); this showed that each construct was supported by both study types. Use of methods from systematic reviews of treatment studies also increased the robustness of the synthesis. For instance, study selection, data extraction and quality ratings were made independently by two reviewers. Each identified construct was supported by a least one study of reasonable quality (Additional File 2. Table 2). Nevertheless, it is possible that reviewers using different methodologies may arrive at different conclusions. The explicit description of the methods employed here will help others determine where different interpretations could have been made.
Conclusions
There is a lack of research exploring primary clinicians' attitudes to the management of depression that is co-morbid with physical illness. This review has found that British GPs and practice nurses consider the diagnosis and management of depression to be complex. In particular more guidance and support to address patients' social problems is needed, especially since mental health policy in the UK [63] promotes stronger links between health and social care. It is not known whether the same issues are important to clinicians when managing depressed people with co-morbid physical illness.
The present study was conducted as part of 'UPBEAT-UK',[64] a research programme funded for 5 years by NIHR to understand and better manage the impact of co-morbid depression on CHD in primary care. Findings of this review such as that clinicians may view and manage depression in older people differently and that certain groups are considered more likely to somatise symptoms of depression are especially relevant to the management of depression in people with CHD who are likely to be older and to have multiple physical co-morbidities. The issues raised by this review will be explored by UPBEAT-UK through qualitative studies of depressed CHD patients' and their clinicians' experience.
Appendix 1: Medline search strategy
1.

exp Depression/ or depression.mp

2.

3.

4.

primary care.mp. OR Primary Health Care/

5.

general practice.mp. OR Family Practice/

6.

7.

8.

9.

general practitioners.mp. OR Physicians Family/

10.

4 OR 5 OR 6 OR 7 OR 8 OR 9

11.

"Attitude of Health Personnel"/ OR Attitude/ or attitude.mp.

12.

13.

perception.mp. OR Perception/

14.

15.

16.

limit 15 to English language and yr "2000 - 2008"
Appendix 2: Checklist devised for this study to assess the quality of observational studies
(answer items 1-5 'yes' or 'no')
Screening: was there a clear aim?
1.) Was the selection of participants appropriate? (consider source population, inclusion or exclusion criteria, methods of selection)
2.) Was the measurement of variables appropriate? (consider validity and reliability of instruments/measures used)
3.) Was there appropriate control of bias? (consider sources of bias, were appropriate methods outlined to deal with any issues such as recall bias, interviewer bias, non-responders, note response rate)
4) Was the use of statistics appropriate? (consider primary outcome stated a priori, note sample size)
5.) Was the study free of conflict of interest? (consider declarations of conflict of interest or identification of funding sources)
6.) list any other limitations of the study
Authors' information
EB is a practitioner health psychologist, registered general nurse, researcher and systematic review module leader for the MSc in mental health service and population research at the Institute of Psychiatry.
JM is a senior lecturer in social research specialising in qualitative studies in mental health.
PW is a research fellow and consultant psychiatrist.
AT is a GP, professor of primary care mental health and Academic Director of the Mood, Anxiety and Personality Clinical Academic Group at Kings' Health Partners, King's College London.
Declarations
Acknowledgements and Funding
This report/article presents independent research commissioned by the National Institute for Health Research (NIHR) under its Programme Grants for Applied Research scheme (RP-PG-0606-1048). The views expressed in this publication are those of the author(s) and not necessarily those of the NHS, the NIHR or the Department of Health. The UPBEAT-UK Research Team consists of: Andre Tylee (PI), Mark Ashworth, Elizabeth Barley, June Brown, John Chambers, Anne Farmer,
Zoe Fortune, Mark Haddad, Sally Hampshire, Morven Leese, Anthony Mann, Paul McCrone, Anita Mehay, Joanna Murray, Diana Rose, Gill Rowlands, Rosemary Simmons, Alison Smith, Paul Walters, John Weinman.
André Tylee is partly funded by the NIHR Biomedical Research Centre for Mental Health at the South London and Maudsley NHS Foundation Trust and Institute of Psychiatry, Kings College London.
Authors' Affiliations
(1)
Section of Primary Care Mental Health, Health Services and Population Research Department, Institute of Psychiatry, King's College London, London, UK
(2)
Section of Mental Health and Ageing, Health Services and Population Research Department, Institute of Psychiatry, King's College London, London, UK
Copyright
© Barley et al; licensee BioMed Central Ltd. 2011
This article is published under license to BioMed Central Ltd. This is an Open Access article distributed under the terms of the Creative Commons Attribution License (http://creativecommons.org/licenses/by/2.0), which permits unrestricted use, distribution, and reproduction in any medium, provided the original work is properly cited.